The Treasure Hunting Club is a club formed by Eri Shinkai with her parents' money to explore the world.
Eri is the founder and president of the club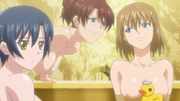 Midori, Aki, Kyoko
Edit
Midori, Aki, and Kyoko are the first three members that joined before Aika Sumeragi and Karen Minamino.
Various students join afterward and became the Bikini Squad.